Environment Settings - How to add Shipping Methods to the Layer
Within the Layer it is possible to create various shipping methods that can be used in Quotations and Sales orders within the Layer.
In order to apply these we must first create them and in this article we will demonstrate how to create, edit and delete shipping methods.
Creating a Shipping Method
To create a shipping method that can be applied within the Layer follow these simple steps:
1. Select
from the top right hand-side of the screen.
2. Under Environment Settings, select Shipping Method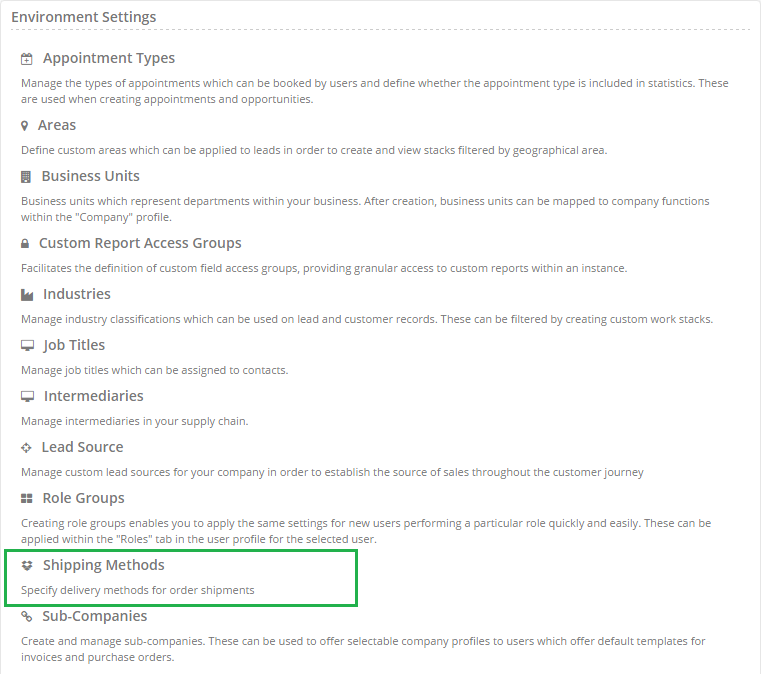 3. You will now be directed towards the All Shipping Methods page, from the left hand-side press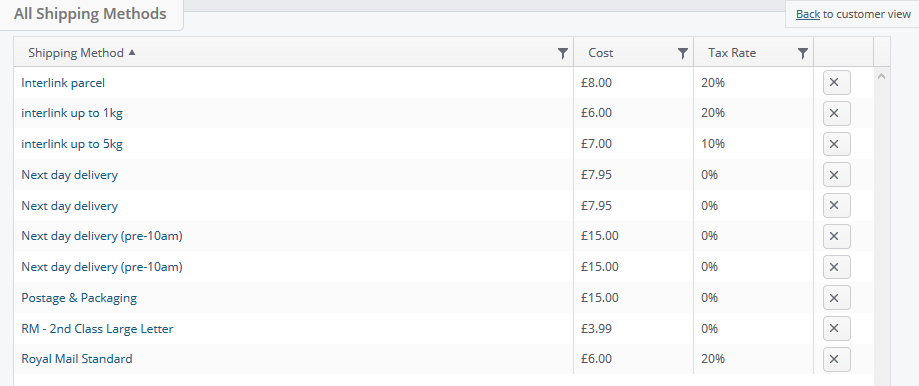 4. You will now be in the New Shipping Method page, from here enter the following information:
Name: The name of your shipping method
Description: A description of your shipping method if applicable
Cost: The cost of your shipping method ex VAT
Tax Rate: add tax rate if applicable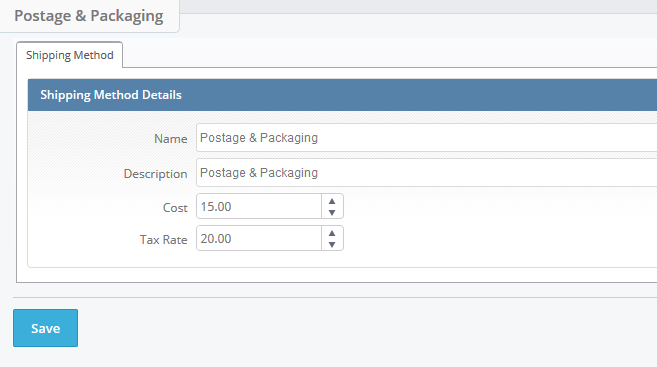 5. Once you have done this press

6. Once you have successfully created your Shipping Method the following message will display:

7. Repeat as necessary until you have created all of your required Shipping Methods in the Layer
Editing a shipping method
Occasionally you may need to edit your shipping methods to reflect increased costs etc.
To edit a shipping simply repeat steps 1 & 2 from above, and click on the name of your shipping method e.g. Interlink parcel from here you will be directed towards the shipping method where you can then amend the method as appropriate.
Remember to press

to save your changes.
Deleting a shipping method
To delete a shipping method follow steps 1 & 2 and from the All Shipping Methods press the

button beside the appropriate shipping method.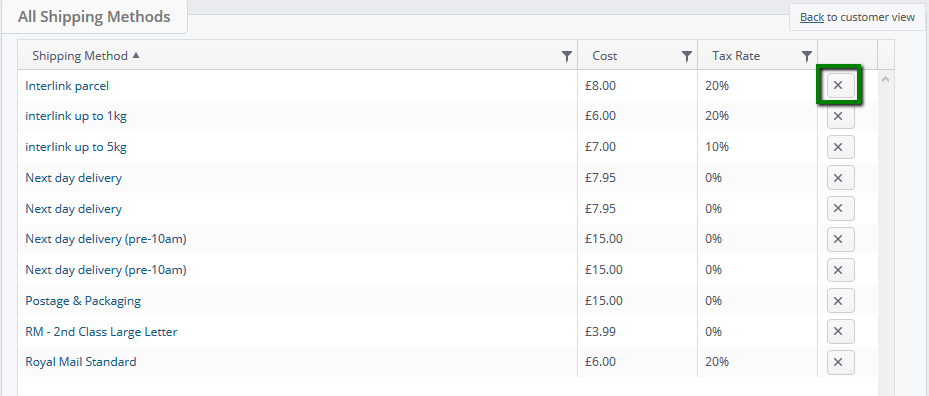 Once you have successfully deleted your shipping method the following message will appear:

Testing your shipping methods
Once you have created your shipping method you may wish to test this in a quotation and sales order, to this follow the steps below.
Testing in a quotation
To test in a quotation follow these simple steps:
1. Open a quotation and select the

button to view the configuration options for the quote.
2. From the drop down options in Shipping Method you will be able to select your shipping method: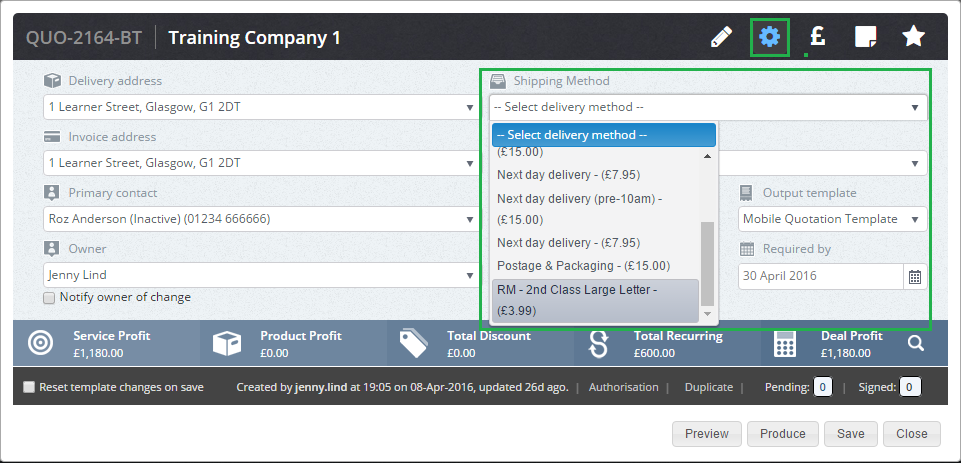 Testing in a Sales Order
To test in a sales order follow these simple steps:
1. Open a sales order and select the Header tab
2. From the drop down options in Shipping Method under Order Configuration you will be able to select your shipping method: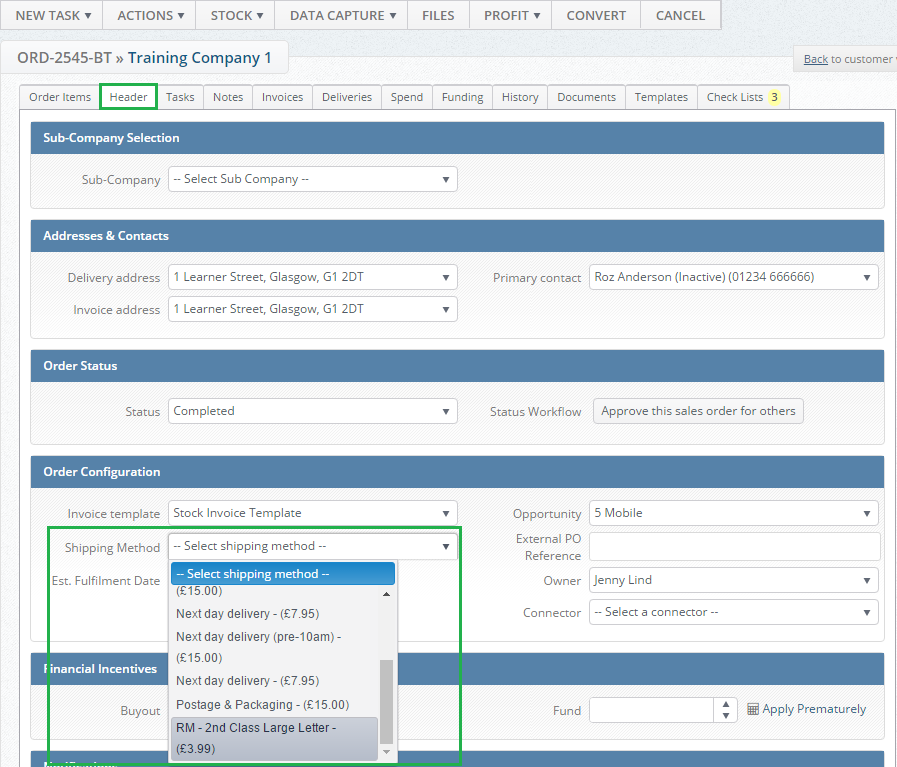 ---
Author: Natasha Cox