New Permission to 'Allow Calendar Schedule Conflict'
Permission to 'Allow Calendar Schedule Conflict'
This permission can be enabled to allow users to book duplicate appointments in The Layer. If the user has an existing Outlook entry in their calendar that isn't time sensitive i.e they are actually available, using this permission will enable users to double book appointments for a particular user.
The reasons for this could be:
- Holiday booked in the Outlook calendar for another member of the team for visibility purposes
- Personal reminders added to the Outlook calendar
- Outlook calendar entry that isn't time sensitive or related to an actual appointment

When creating an appointment, if a user has an existing appointment booked for the timeslot selected, the appointment creator will be able to preview the current appointment details and prompted to confirm whether they want to book another appointment .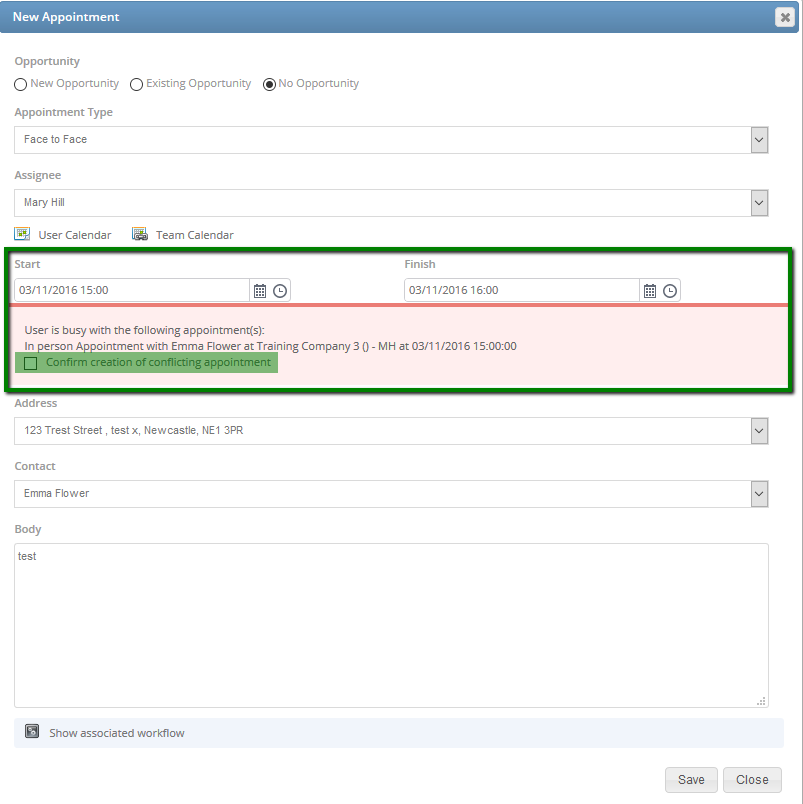 Users can then confirm that they'd like to overbook the timeslot or reschedule the appointment.
Once the appointment is saved you will see the following update message:

You will then see the duplicate appointment booking in the team calendar view below illustrating two appointments crossing over.

Both team and user calendars use the following colour keys:
Blue background denotes a Microsoft Exchange (Outlook) generated appointment
Green background denotes a Layer generated appointment
---
Author: Michaela Gormanova