Understanding Opportunities: Option to link Marketing Campaign to an Opportunity
Why is it useful ?
Having the ability to link your opportunities to a marketing campaign will enable your business to monitor return on investment of various campaign activities and determine which campaigns are more successful.
When Creating the Marketing Campaign
To make a specific marketing campaign available for selection in opportunities you should tick the option Include in Opportunity Campaigns. You may wish to uncheck this option when sending out campaigns that are not designed to generate sales (e.g outage updates, holiday opening hours updates etc.)
The Total Cost section enables you to log the cost against the campaign in order to consider this when calculating the ROI. This can be updated by amending or adding prices to various elements in the campaign.
Linking a Marketing Campaign to an Opportunity
If an opportunity has been created due to a specific marketing campaign or activity this can be logged against the opportunity by choosing the campaign from the drop down menu against the Key Marketing Campaign field.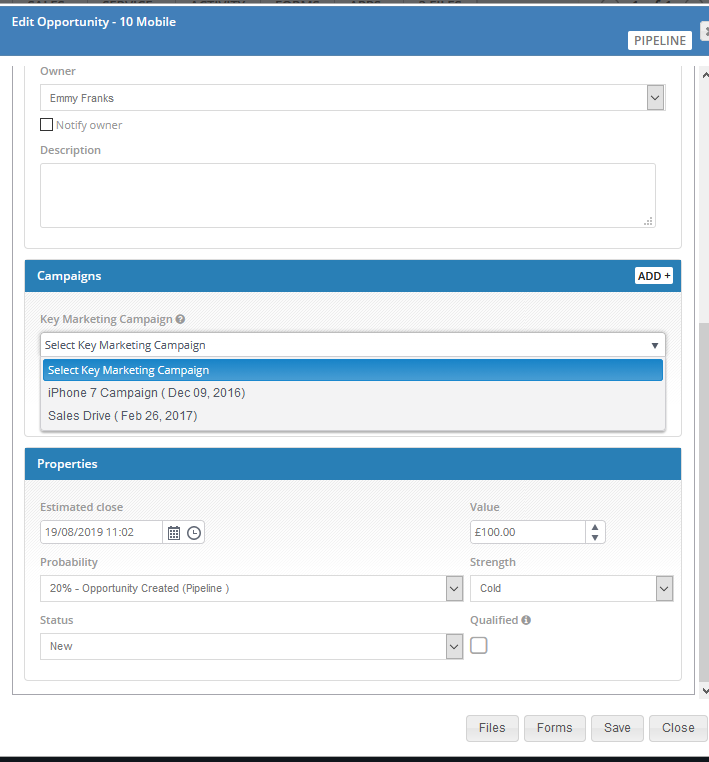 Typically, this will be updated by sales or presales users when creating the opportunity and will enable marketing to review all campaigns and determine which ones are the most effective and profitable for the business.
There can only be one key campaign set for each opportunity however if any other marketing campaigns have influenced the process, the sales person can add them as Additional Marketing Campaigns. You can add as many additional campaigns as necessary to accurately reflect how many touch-points the business has had with the customer before they sign the quote.

If a user has the permission to create new marketing campaigns they will also be able to create one from within the opportunity by clicking add. They can then select this as either a key or additional marketing campaign.
Workstacks
You are also able to filter opportunity stacks by key or additional campaigns, you can choose to have multiple key or additional campaigns in the filter to pull through opportunities associated with different campaigns.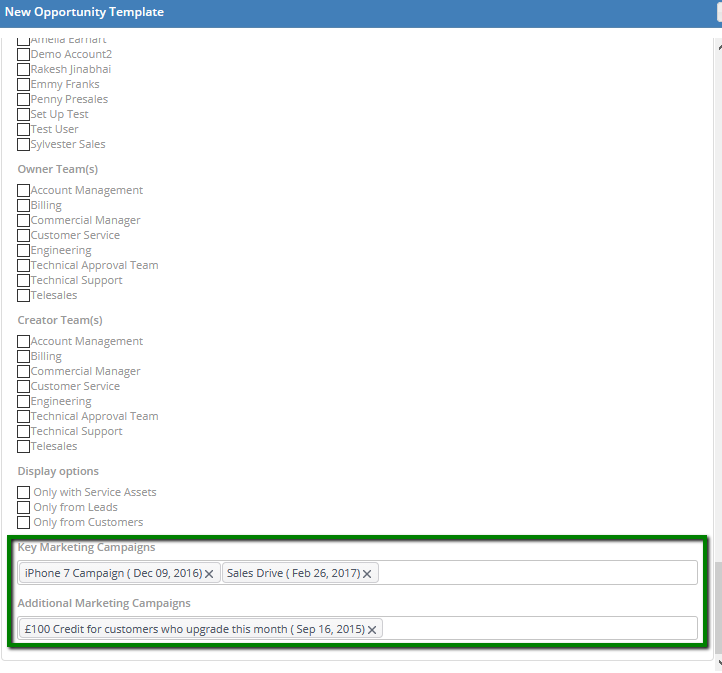 N.B. To view all opportunities a campaign has influenced you would have to select the campaign in the key campaign filter and the additional campaign filter.

There are also fields in the opportunity workstack exports detailing the key campaign, additional campaigns (comma separated) and the key campaign cost for ease of comparison against the opportunity profit values.

---
Author: Michaela Gormanova