Work Stacks: How to create work stack subscriptions
Work stack subscriptions are used to allow users to receive subscribed alerts on work stacks within their user account to help monitor work load.
Subscriptions can be created for any work stacks that have been created using a Case, Opportunity, Sales Order or Invoice based work stack template only.

Do I need special permissions?
No, users can subscribe to any work stacks that have been made available within their user account.
What are the benefits of subscriptions?

What do I need to do before I subscribe?
To create a subscription you must first consider the following the steps:

N.B. If you are unable to create a work stack please speak to your system administrator.
How do I create a subscription?
Once you have created your desired work stack, there are two ways in which you can subscribe.
The first way is to go to the top right of the desired stack and click on the hamburger symbol. A drop down menu will then appear showing Subscription Options and remove. Click on Subscription Options and then click on subscribe in the pop up. You will then be asked if you would like to add this subscription to a new group or an existing group.
If you chose to add the subscription to an existing group you will be given a drop down menu with all currently existing groups to chose from. When you have chosen the appropriate group click subscribe.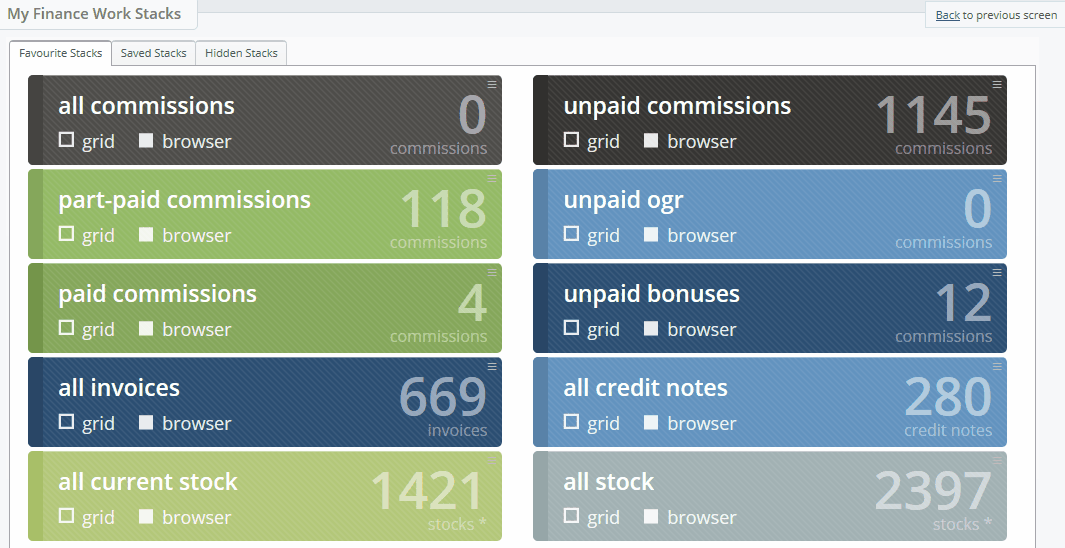 Alternatively if you chose to create a new subscription group, you will be asked to name the group and chose the schedule you would like it to be delivered by. The simple schedule will allow you to chose how regularly you would like the subscription group to send and then the time or date of that period you would like the subscription to be emailed. Advanced schedule allows you to enter the schedule by Cron. When these details are correct click subscribe.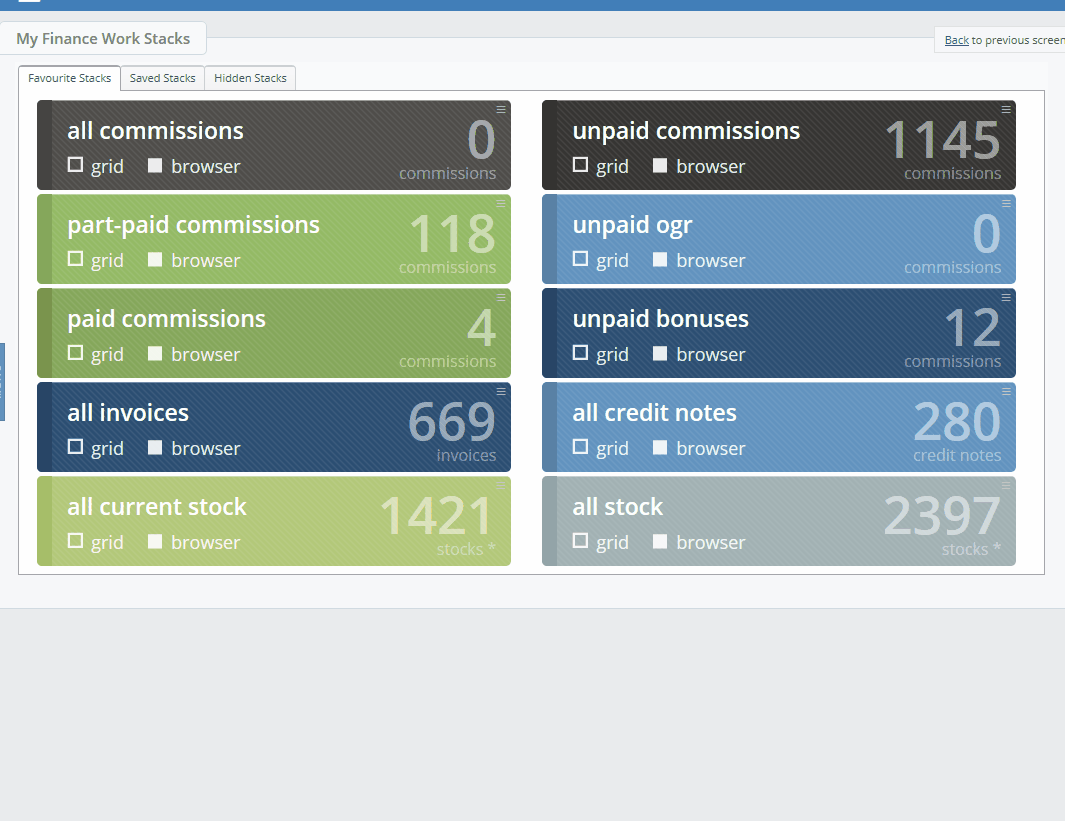 N.B. This is the only way to subscribe to stacks with no entries.
The second method would be to click into the stack and then complete these steps.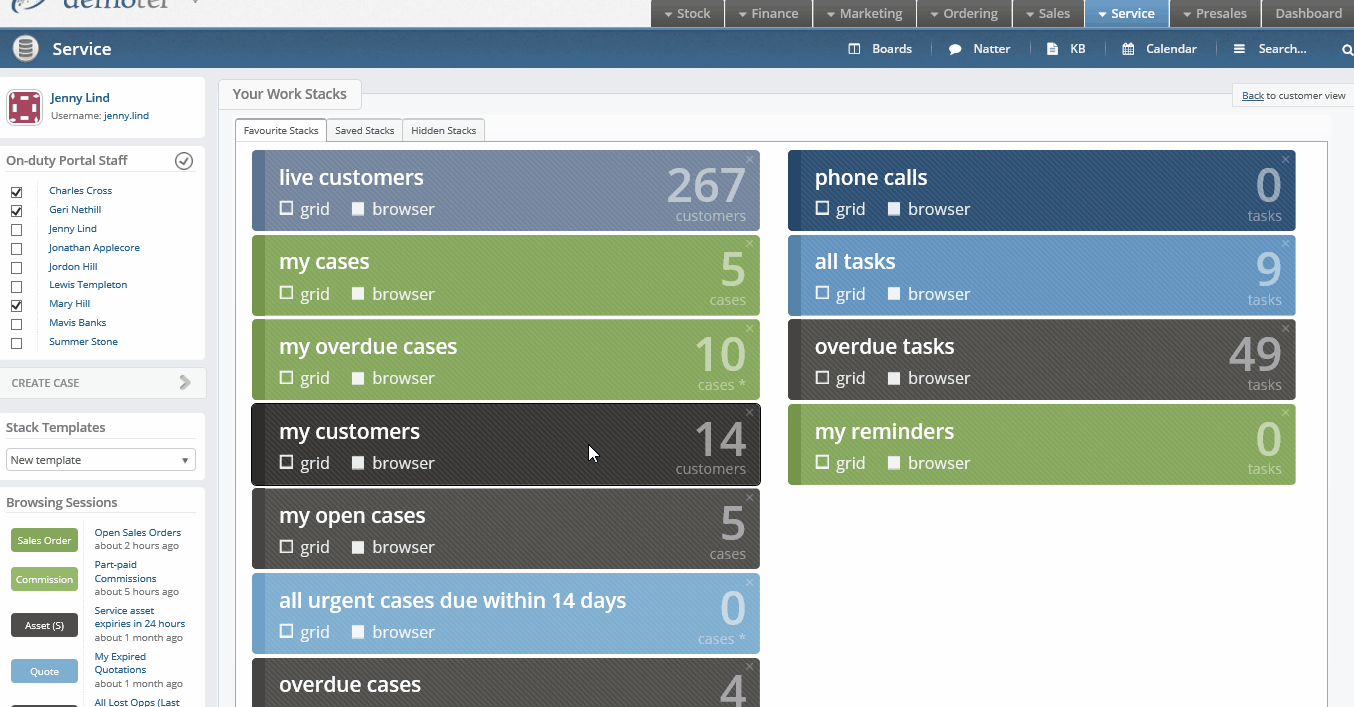 How often can subscriptions be scheduled?
Subscriptions can be scheduled hourly, daily, weekly, monthly and yearly depending on your requirements.
What are subscription groups?
Subscription groups simply allow you to group work stacks together, this results in one combined email subscription being sent to your email inbox, e.g. you may wish to group all case related work stacks together rather than creating an email per work stack.
The name of the subscription group will be displayed as the subject of the email that is sent to your inbox once a subscription is created.
Can I have multiple subscription groups?
Yes, you can create multiple groups which would result in multiple emails, e.g. as a manager you may wish to create a group for overdue work load and another group for upcoming work load etc.
Can I subscribe a work stack to more than one subscription group?
No, work stacks can only be subscribed to one group at a time.
Can I mix work stack templates within a group?
Yes, you can mix invoice, opportunity, sales order and/or case work stacks to one subscription group.
Can I add a new work stack to an existing subscription group?
Yes, new work stacks can be added to existing subscription groups.
Can I subscribe to other users work stacks?
No, unless the work stack is available within your user account you will not be able to subscribe to the work stack.
Can I unsubscribe from a work stack?
Yes, to unsubscribe from any subscription follow these simple steps:
1. Click on the top right corner of the stack then click Subscription Options.
2. In the pop up click unsubscribe.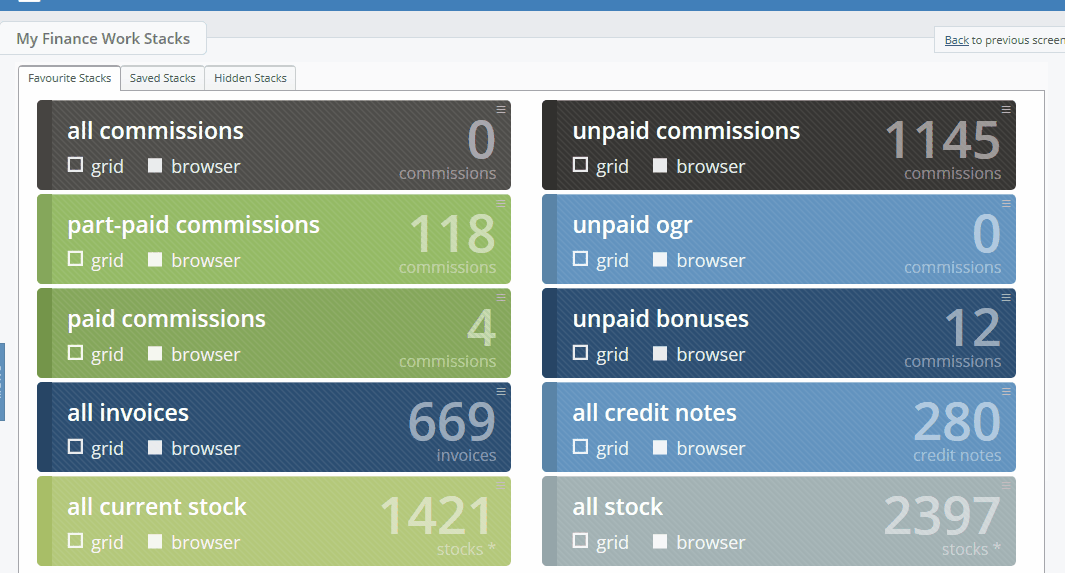 OR
1. Open the work stack that you wish to unsubscribe from
2. Press the unsubscribe button
Can I delete a subscription group?
Yes, however only users with access to all users accounts via the settings menu can delete subscription groups. Users with this permission can delete singular work stacks from a subscription as well as delete a whole subscription.

N.B. Users without permission to delete subscriptions can simply unsubscribe as per the instructions above.
Can I view what users are subscribed to?
Yes, however only users who have permission to view User Accounts from within the Settings zone will be able to view any subscriptions that users have created:
How do I view my subscription?
Once your subscription has been created it will be emailed to your inbox at the scheduled time and will look similar to the below: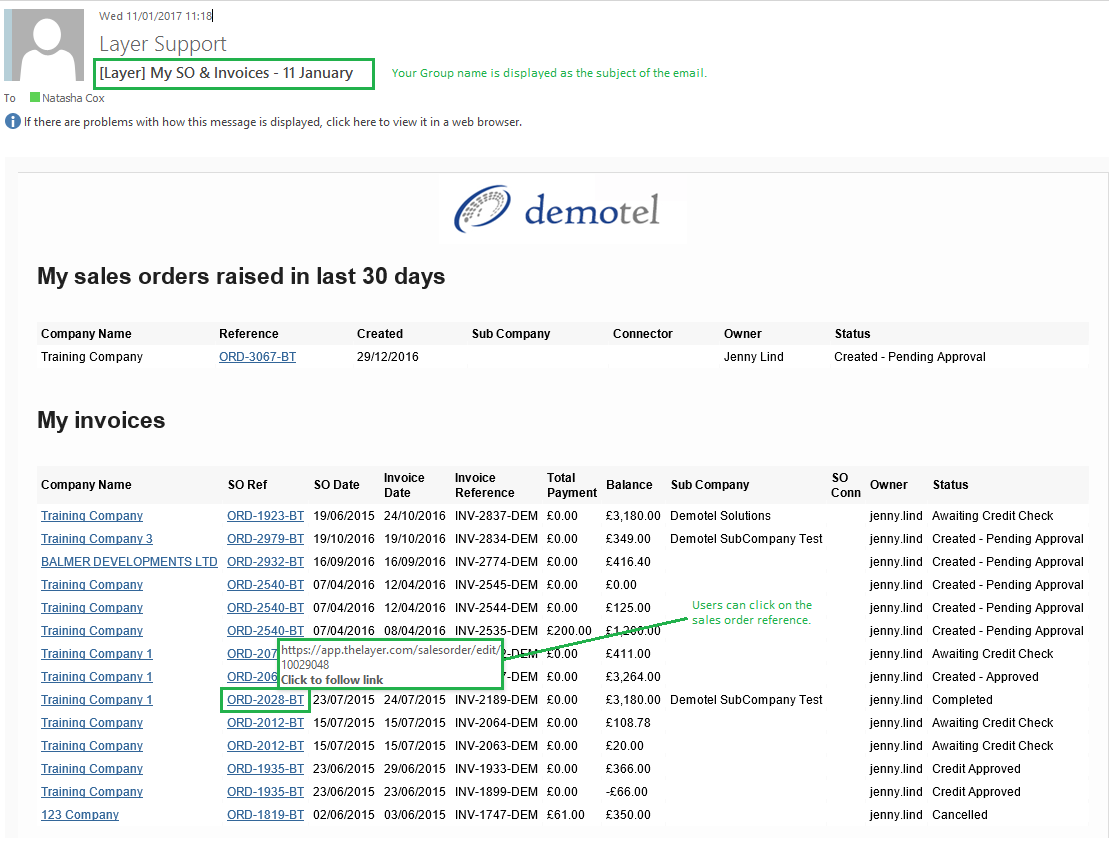 Subscription Examples
In the images below we have outlined some examples of subscriptions that demonstrate how useful this feature could be to users.
Cases: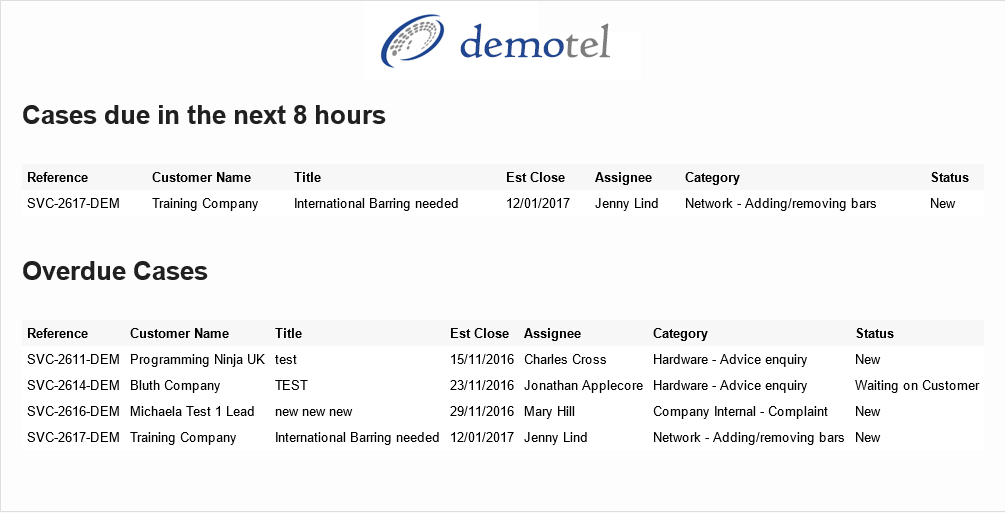 Invoices: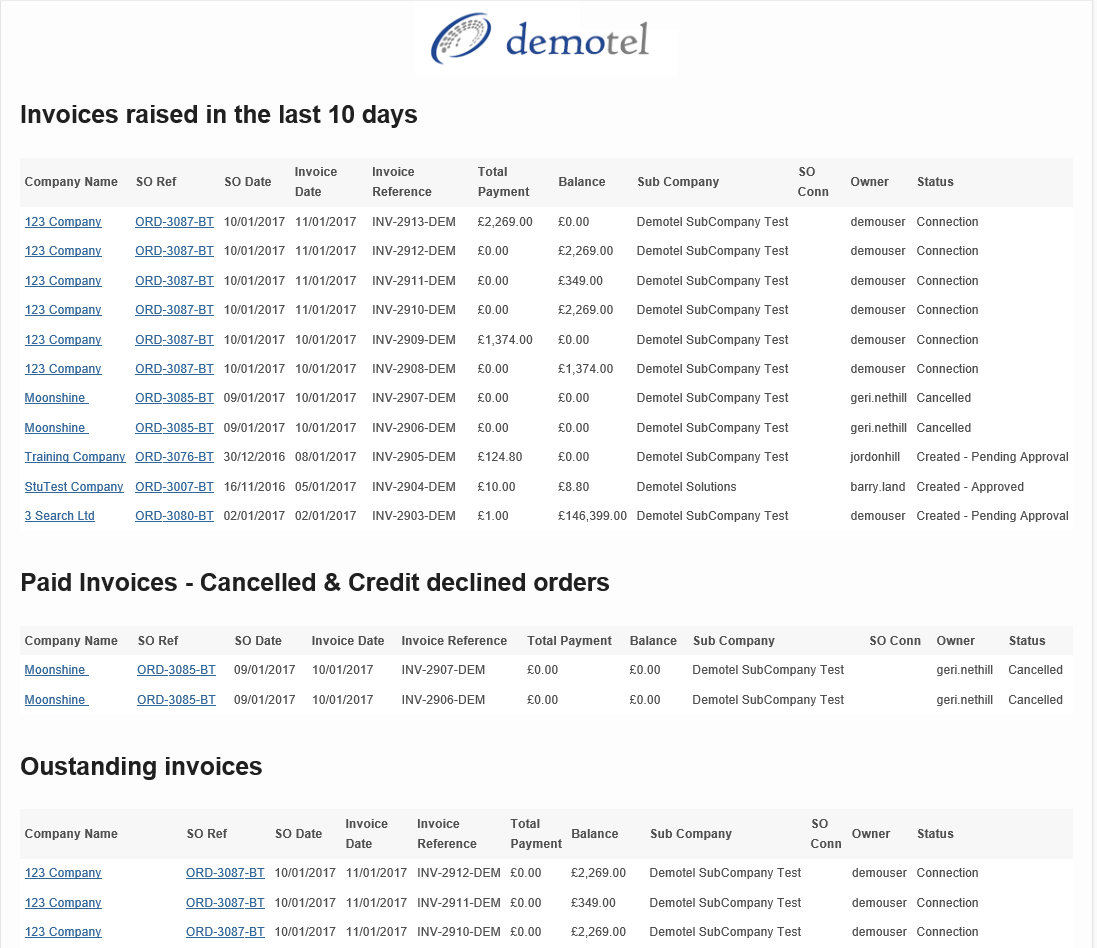 Sales Orders: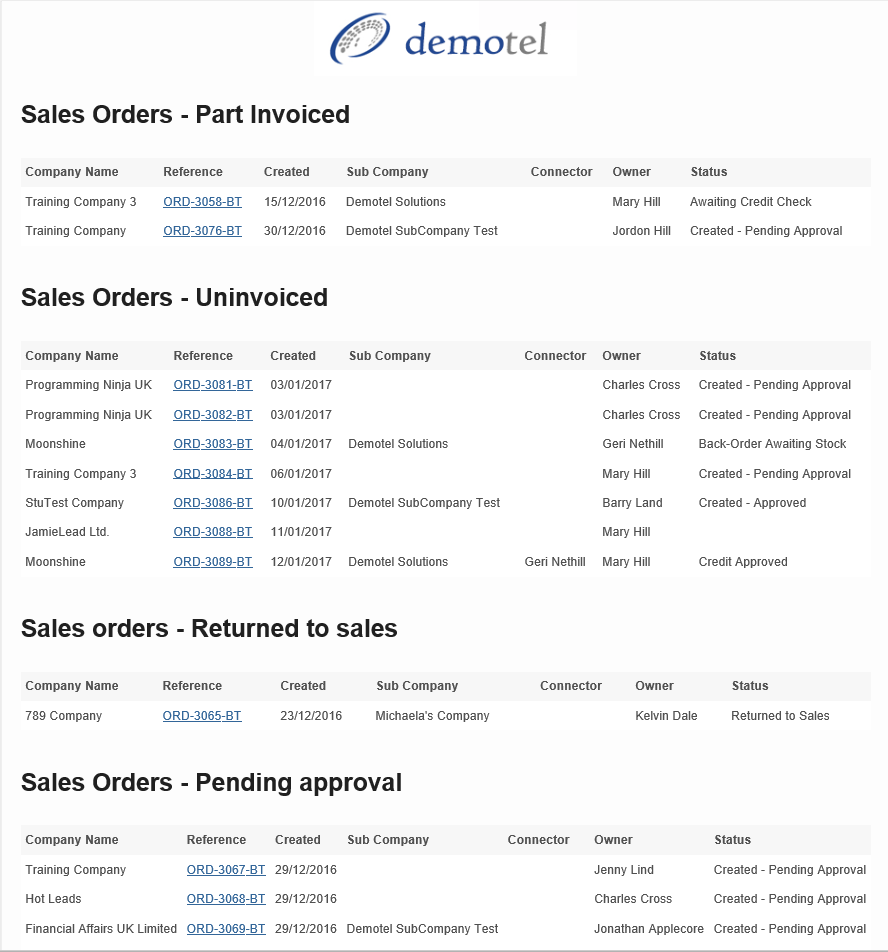 Opportunities: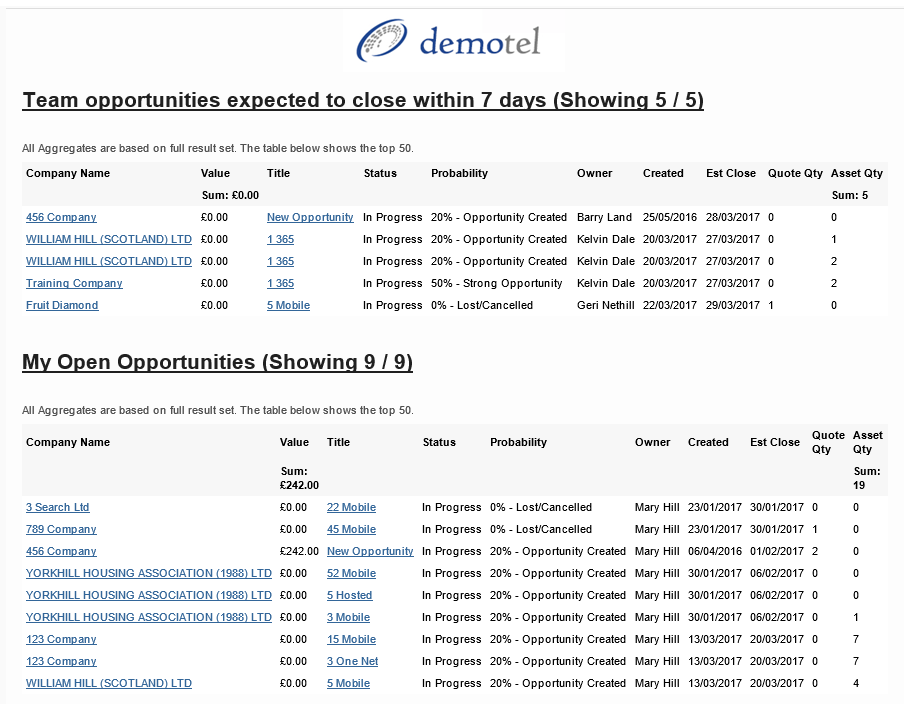 ---
Author: Natasha Cox