Customer and Lead Access Delegation
It is possible to grant access to a record that a user does not own by delegating access.
This means that rather than assign a user as a record owner they can be granted access for a set period of time, this is useful in a number of situations, e.g:
Annual leave cover e.g. colleagues can access records to cover periods of absence
Helping a colleague with a deal e.g. a colleague might specialise in a certain product that the customer needs
Presales users can be assigned access to records to gather data rather than assigning the record to them
To delegate access:
Open your lead or customer record
From the "Actions drop" down menu, select "Delegate Access".
Choose the assignee and the desired expiry date. This will default to the number of days defined in your Settings (covered below).
The owner and the delegated user will both receive an email alert with details of the delegation.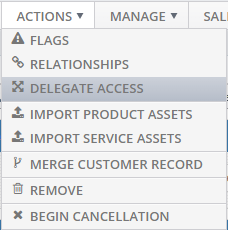 Access Audit
Within the Lead and Customer records it is possible to also view an audit of any access or ownership that is relevant to a record.
This can be managed from the Access tab of a customer or lead. Users with the correct role can remove a delegation from here by deleting the line.

Settings Zone - Delegation Management
The Customer Management and Lead Management areas of the Settings zone have been expanded to allow you to see a view of all delegations that have been granted.
Settings - Customer Management / Lead Management - Customer Delegations / Lead Delegations
From here you can delete individual or multiple lines, or delete all delegations.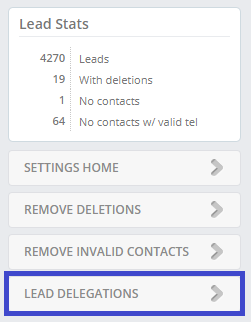 Settings Zone - Default Delegation Period
You can set default values for delegation period in The "Company Setup" area of Settings. At the time of delegation you are free to change this date for a particular record.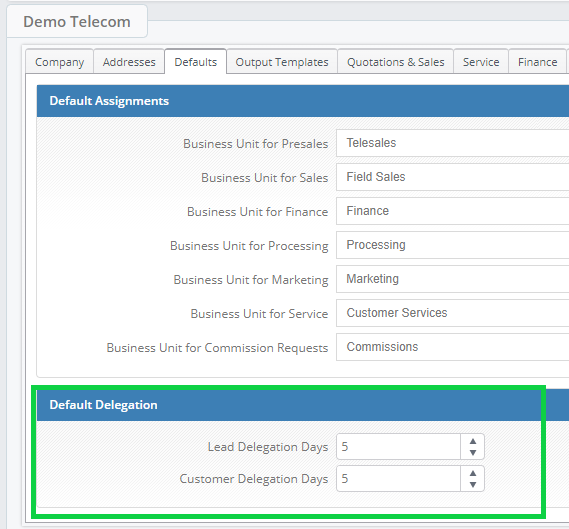 Roles / Permissions
You can disable delegation assignment for a given user or team with the following roles:
Disable Delegation on Lead Records
Disable Delegation on Customer Record

Bulk Assignment
If you need to delegate in bulk, please click here for our guide.
---
Author: Natasha Cox